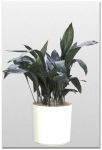 Click image for larger view.
The Aspidistra elatior is from the Araceae family, Genus Aspidistra. It's common name is the Cast-Iron Plant. This plant originates from Asia, and is a foliage plant. One of the toughest plants to kill, it is commonly used as a specimen and for mass planting. The leaves are long and slender and usually black-green. Low light levels are tolerated and it requires little water and low humidity.
LIGHT AND TEMPERATURE: Very tolerant of most light levels, however keep out of direct light. Likes cool temperatures.
WATER: Water regularly in spring and summer, but do not keep saturated. Let the first few inches of soil dry between waterings.
FERTILIZER: Regularly in spring and summer.