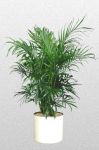 Click image for larger view.
The Bamboo Palm is an easy to care for tropical houseplant that does well in most homes. It prefers bright indirect light but can survive in lower light areas as long as it is not overwatered. As with most palms, the leaves also known as fronds, need to be kept clean. Regular cleaning with a soapy solution will help to keep any spider mite issues under control.
LIGHT AND TEMPERATURE: Bright, indirect light is best, but will survive in lower light areas. Average warmth.

WATER: Keep moist but do not allow to stand in water.
FERTILIZER: Regularly in the spring and summer months.