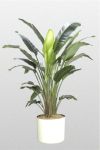 Click image for larger view.
The Bird of Paradise is characterized by its large, sometimes split leaves. The Bird of Paradise loves bright light and moist but not soggy soil.
LIGHT AND TEMPERATURE: As much light as possible, leaves may burn from direct light if too close to a window. Average warmth.

WATER: Water well and then again when soil surface is dry. Less water is needed during the colder months.

FERTILIZER: Regularly in spring and summer months.
FLOWERING: Mature plants may flower in spring if in well lit location.